2021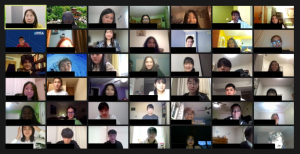 PrepaTec, Mexico
In April 2021, IMSA gratefully hosted Global Conversations events between IMSA students and students of PrepaTec, in Mexico. The series of three events was supported by IMSA's World Language Faculty member, Dr. Mary Zuidema.
Ritsumeikan High School, Japan
To close out the Spring 2021 series, IMSA held a Global Conversations event in May 2021 with students from Ritsumeikan High School in Kyoto, Japan. This event was supported by IMSA's Science Faculty member, Dr. Sowmya Anjur.
Looking Ahead
IMSA looks forward to developing the Global Conversations series to deepen partnerships and offer uniquely differentiating experiences for IMSA Students, in the coming academic year.
---
2020
Global Conversations with STEM Students is an opportunity to connect students across boundaries, share cultures, gain international perspectives, and build awareness of realities of students' day-to-day life experience. Conversations are student-led and student centered. The 1-hour virtual sessions involve small group discussions (10-15) between IMSA students and other participating STEM students. IMSA established the program in collaboration with schools in Italy, Mexico and Japan.
IMSA initiated the Global Conversations program in 2020 in collaboration with students from Milan, Italy.
Collegio San Carlo, Italy
In January 2020, IMSA hosted visitors from Milan where they were able to learn about our practices and have in-depth conversations with some of our faculty and staff.
In April 2020, a group of IMSA juniors had the opportunity to Zoom call with their 11th grade student counterparts in Milan. They discussed the effects of COVID-19 in their respective countries and how each of their schools are transitioning to distance learning. They also shared what they have learned in the midst of quarantining. Both groups gained international perspective. The students are looking forward to staying connected and continuing conversations next year.
On December 16, 2020, International Baccalaureate (IB) students from Collegio San Carlo in Milan, Italy met with students from IMSA. The Social Inequalities group developed a project focusing on immigration and issues such as Black Lives Matter as they apply to Italy as a part of a Creativity, Activity and Service (CAS) initiative. The group of students from IMSA engaged in a conversation with the Collegio San Carlo students to share their views of racial injustice including the Black Lives Matters movement in the United States. The Italian students shared what they have seen in the news headlines as well as inequalities that exist in Italy. As a follow up, senior Samantha Taylor was interviewed for a podcast that was also a part of the IB project. The podcast was recorded on March 3, 2021.
16th International Student Science Fair, Bangcok, Thailand
We sent three of the students, all seniors, Saivasudha Chalasani, Andrew Du, and Krishna Thakkar to participate in ISSF 2020 at the Kamnoetvidya Science Academy in Rayong, Thailand this past January. Accompanying them were Dr. Angela Ahrendt Science Faculty, and Dr. Robert Hernandez. Both Saivasudha and Krishna received an award for Best Oral Presentation in Biology.
---
2019
15th International Student Science Fair (ISSF) 2019 Singapore
We sent three of our students, Xander Hall '20, Emily Sallenback '19 and Shruti Shakthivel '20, to participate in ISSF 2019 at the National Junior College in Singapore this past March. Accompanying them were Ms. Marti Shirley, Math Faculty, and Dr. Robert Hernandez. Shruti won Best Young Research Scientist and was part of a group honored with the Ideation Award in theDesign Challenge. Xander was a member of the group winning Best Engineering Award in the Design Challenge.
Visit from Queensland Academy for Science Mathematics and Technology 

IMSA hosted 60 students and 8 faculty visitors from Queensland Academy for Science Mathematics and Technology. IMSA students shared a presentation and a tour of campus. Thank you Natalie Sanchez '20, Andrea Rubio '20, Devraj Thakkar '21, Charline Rivera '21 and Krisha Patel '21.

IMSA was thrilled to welcome and host a delegation of education leaders from Mexico for a day of student interaction, curriculum and program sharing and fellowship.


IMSA President Dr. Jose Torres hosted representatives of the National Sun Yat-sen University, Taiwan and Northern Illinois University College of Social Sciences for a signing ceremony promoting academic cooperation and exchange.
---
2018
Illinois Higher Education Mission to China and Malaysia
In 2018, teachers from Thailand, Indonesia and China visited IMSA to learn more about our student and teacher outreach programs. As a result of these efforts, IMSA was invited to join a delegation to China and Malaysia in November 2018 as a part of the Illinois Higher Education Mission to China and Malaysia sponsored by the Illinois Department of Commerce and Economic Opportunity. IMSA was the only high school in a delegation that included 9 Illinois private and public universities. The delegation visited Dalian, Shanghai, Shenzhen in China and Kuala Lumpur in Malaysia. City and National Education and Government officials to introduce them to IMSA and IMSA's philosophy on education, begin the recruiting process for residential students and promote outreach programs for teachers and students.
Collaboration with IMSA, Northern Illinois University and the Mialoi County Taiwan Ministry of Education. The purpose of the project was to give Taiwanese students an opportunity to experience top American high School teaching and learning. 
The visiting students were immersed for two weeks in the day to day life of an American high school student at IMSA as they gained insight on American culture and traditions as well as be exposed to rigorous STEM instruction. After their experience at IMSA the students spent a week visiting another local high school and a week at Northern Illinois University to experience college life at an American university. The total experience lasted for 4 weeks and proved to be most memorable and impactful to them as well as each of their hosts.
Students attended classes at IMSA and participated as a group in a learning experience focused on the 6th goal of the UN 17 Sustainable Goal, Clean Water and Sanitation. Sarah O'Leary Driscoll led the students in a project to study water resources and design processes and innovation to purify and cleanse the water. This project was designed for them to continue after they returned to Taiwan.
Japanese Super Science Fair (JSSF)
Three of our seniors: Shubha Verma, Louise Lima and Jake Sutter are planning to attend the Japanese Student Science Fair November 14 through 18 in Kyoto. Our SIR team selected students based on the quality of their research. Thanks to the IMSA Fund, we sponsored the students' travel for this event. Each of the students are scheduled to present posters and Shubha is also scheduled to make an oral presentation. Dr. Eric Smith, one of our SIR coordinators, joined me in Japan and was the chaperone for the students. While attending JSSF, the state's Office of Trade & Investment was able to set up a series of meetings for me with Japanese officials and schools in Tokyo and Kyoto.
| | |
| --- | --- |
| | IMSA was proud to be a stop on a tour of government officials from Beijing, China in the fields of technology, education and urban planning. City of Aurora Mayor Richard Irvin hosted the delegation from Beijing, China on October 24. |
---
2017
International Student Science Fair (ISSF 2017)
Three of our students, as well as faculty and staff, attended the International Student Science Fair (ISSF 2017) in Busan, South Korea. Our students did an excellent job. Sonya Gupta '18 received First Place in the Excellence in Leadership Award; Darius Hong '18 received the Excellent Post Presentation award; Sonya and Nabeel Rasheed '18 received the Most Ambitious Research Award; and Nabeel won Second Place in the Future City Design Science Competition.
---
2016
Japan Super Science Fair

Three IMSA students participated in the Japan Super Science Fair held at Ritsumeikan High School October 30 – November 6, 2016. Divya Dureja ('17) presented an oral presentation. Claudia Zhu ('18) and Herschel Gupta ('17) participated in poster presentations. Research Faculty Dr. Vandana Chinwalla accompanied the students.
| | |
| --- | --- |
| | IMSA exchange with PTHS, a high school in St. Petersburg, Russia |
---
2015
| | |
| --- | --- |
| | We enjoyed hosting our visitors from The High School Affiliated to Renmin University of China (RDFZ) last week! We thank them for coming, and for our faculty/staff for hosting them on our campus. |
| | Ten education-interested delegates from Shenzhen, Southern China visited IMSA on December 2nd to discuss curriculum, innovation, and entrepreneurship. They represented several municipal offices, such as the Foreign Affairs Office of Yantian District, the Economic Promotion Bureau of Longgang District and the Shenzhen Municipal Planning and Land Resources Bureau. We thank them for coming, and for the IMSA faculty, students, and staff that facilitated their visit! |
| | For the third time, IMSA had the pleasure of hosting students from its sister school in Décines, France, near Lyon, thus building on the schools' academic, linguistic, and cultural French-American student exchange. Fiona Spence and Brenda Crosby worked with physics and chemistry teacher Philippe Jeanjacquot from le Lycée Charlie Chaplin to organize the experience for his eleven students and their IMSA hosts. The French students lived on campus and had two weekend home stays from October 5-19, 2015. In the spirit of exchange, six of the IMSA students who traveled to France in Spring 2015 with Fiona Spence and Brenda Crosby hosted their French sister or brother. While on campus, the French students attended classes, visited Fermi Lab with IMSA students, partook in wing activities, and attended sporting events. They also gave a presentation to the IMSA community about their school, the city of Lyon, and the life and culture of their region in France. |
---
2014
| | |
| --- | --- |
| | We are delighted to host the highly acclaimed Art Troupe of the High School Affiliated to Renmin University (RDFZ) from Beijing, China, on its 2014 American Tour. The 51 students from our "sister school" are treating us now to a dazzling performance of music, dance, aerobics and martial arts. |
---
2013
Visit from Stellenbosch University 

Dr. Maureen Robinson, an accomplished professor of teacher education at South Africa's Stellenbosch University, was on campus last week exploring a possible partnership between Stellenbosch and IMSA.