Why did you choose to work at IMSA?
I didn't choose IMSA they chose me. My satellite college campus Ai (Illinois Institute of Art) was closing, so in a panic I sent out resumes to everyone who was looking for an art educator/professor.  I came to IMSA and met Mary Beth McCarthy and Emily Cooley, meeting this amazing team for the first time I knew I would fit in just fine.  Secondly being asked to redesign a thirty year visual art curriculum fit me perfectly.  Many of the colleges in which I worked, the main part of my job was designing curriculum. I love building classes and watching them grow.
How are you implementing the academy's equity policy, doing your work (curriculum, instruction and assessment) through an equity lens?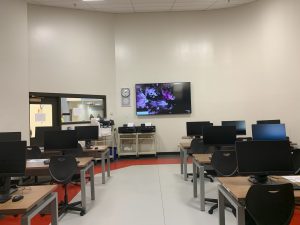 I have implemented the academy's equity by being a part of creating the new Fine Arts Design Studio (FADS) the fine arts computer lab.  Strange maybe, however, knowing the lack of opportunity many students have encounter this studio will start to help balance the opportunities.
Let me explain, I have a dear friend who was helping with her granddaughter with a high school history assignment.  My friend told me that while helping her granddaughter she noticed her history was copyrighted 1964.  I was shocked and appalled, how could this school in our very own suburbs be so back dated?  Yet here my daughter less than 30 minutes away had a new history book every year.  This disparity is just ridiculous!  I had to question, what are we doing?  (Okay nothing to do with creating an art lab right?) It did, however, confirm to me the lack of opportunities many of the students within a very small geographical area encounter.
Okay now back to the lab and why.  Knowing what is expected of college students, (having my own children in the sciences at college), they had to learn the elements of Adobe Creative Suite for presentations etc. My own children did learn the programs from myself, but with the huge disparity between schools, many students and schools cannot afford access to the Adobe Creative Suite, therefore leaving them behind in college. By creating a lab in which our students can learn the Adobe Creative Suite, we as a school, have just helped to create equal opportunities for all our students.  As many may or may not know the IRC staff has been doing this for years, the fine arts department just simply have followed their lead.
Tell me something fun about you that might be interesting to others.
My artwork travels more than I do, perhaps one day I will travel more than my work.
What is Your Favorite Book?
I do not truly have a favorite a book, but if I had to choose, it would be "Movements in Art Since 1945".  Silly yes, but many do not know that the US was behind in the art world, until the time of Jackson Pollock, Robert Motherwell etc.  During the late 30's and well after 1945 were exciting times in the art world putting the US as a leader in the arts.
What is Your Favorite Movie?
Once again I do not have a favorite movie, or I have tons of favorite movies, which include: The Fisher King with Robin Williams, anything with the Wizard of Oz, meaning the Wizard of Oz, The Wiz, Oz and of course Wicked (not a movie). I love all the timeless epic movies before computers, all being done a sound stage, they are artistically amazing. I love movies that use Claymation, did you know that for one minute of film there needs to 1400 still images? Amazing! I still love anything done by Alfred Hitchcock.  Yes love Hitchcock, he allowed us to use our own imagination to scare ourselves, genius! And yes I did allow my imagination to scare myself growing up!