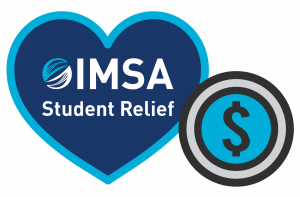 The IMSA Fund has established the IMSA Emergency Student Relief Fund. With this fund, we hope to provide financial assistance to our low income students for essential expenses, as well as access to technology for remote learning. Our goal is to ensure that every student in our community can continue to experience IMSA's robust educational program from home, regardless of their financial situation.
Please join us by making your donation now. You can also send a check payable to the "IMSA Fund for Advancement of Education", indicate "Emergency Relief Fund" in the memo line and mail to: IMSA Fund, 1500 Sullivan Road, Aurora, IL  60506.
If you would like to discuss how you can help IMSA students during this difficult time, please reach out to us directly at giving@imsa.edu.
---