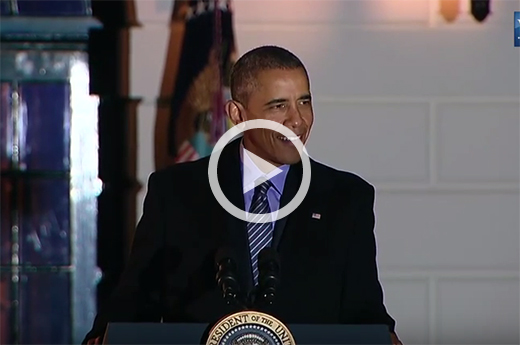 President Barack Obama spoke at length about IMSA Junior Pranav Sivakumar at the White House Astronomy Night event on October 19, praising the "adventurous spirit" that led to his passion for in-depth astrophysics research. Pranav's original research and algorithms that discover gravitationally-lensed quasars recently won him the Virgin Galactic Pioneer Award at the 2015 Google Science Fair.
"When Pranav Sivakumar was six years old he found an encyclopedia about famous scientists lying around the house," said President Obama, "and he's been fascinated with outer space ever since. For years every Saturday morning his parents drove him an hour to an astrophysics lab for 'Ask-a-Scientist' class, and before long he teamed up with researchers he met there to study gravitational lensing of quasars. That is not what I was thinking about at his age. Pranav was a Global Finalist in the Google Science Fair not once, but twice, so you know he's going to do some important things. Give him a big round of applause!"
The junior from Tower Lakes was in attendance for the annual White House event, which featured astronauts, congressmen, and celebrities such as Bill Nye and the cast of Mythbusters. The evening activities included stargazing, learning about new astronomical discoveries and exploring cutting-edge technology.
Sivakumar's Google Science Fair project, "An Automated Search for Gravitationally Lensed Quasars in the Sloan Digital Sky Survey," allowed him to identify 109 new high probability quasar candidates in the SDSS, using two algorithms that he designed. Finding and studying these bright celestial objects gives insight into how much dark matter and dark energy exists in the universe, which could ultimately shed light on whether the universe will keep expanding, stop expanding, or collapse.
Watch the President's speech, starting with his mention of Pranav, here: https://youtu.be/myf_VYrnTAk?t=19m15s