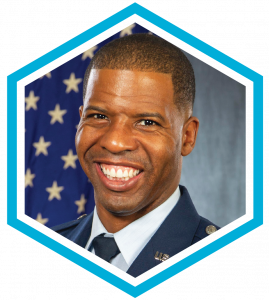 Lieutenant Colonel Kenyatta "Deacon" Ruffin is a US Air Force pilot originally from Maywood, IL. At the age of five, he first dreamed of becoming an astronaut and began to vigorously pursue this goal. At 13, he piloted his first aircraft, and then soloed a glider one year into a flight academy program affiliated with the national Tuskegee Airmen, Inc (TAI). He then applied, and was accepted to, the prestigious Illinois Mathematics & Science Academy (IMSA) during high school, where his passion for flying intensified. He soon joined the Civil Air Patrol (CAP) and became one of the nation's youngest FAA Certified Flight Instructors (Glider) at 18, two years before gaining his driver's license! He then created a small flight school, teaching several of his fellow students about aviation. Additionally, he was a leading developer of the "Science Explorers" program where he and fellow IMSA students ran a STEM-focused summer camp for middle school students.
Colonel Ruffin attended the US Air Force Academy, graduating with Bachelor's of Science degree in aeronautical engineering and a minor in military doctrine, operations, and strategy in 2003. While a cadet, he served as the cadet commander of the 94th Flying Training Squadron and currently serves as the class vice president. Upon graduation from the Air Force Academy and completion of pilot training, Colonel Ruffin was selected to fly the F-16 Fighting Falcon. He deployed to Iraq during the "Surge" in the summer of 2007, flying 49 combat missions and logging nearly 200 combat hours. On his second deployment to Iraq he ensured the safety of approximately 10,000 Coalition Forces and also helped the developing Iraqi Air Force's pilot training program. During both deployments to Iraq, he was humbled to officially be a "Tuskegee Airmen" as a part of the 332nd AEW and was taken back by the reality that people were both fleeing from and flocking to a war zone, all in search of the same thing – a better life for themselves and their family.
Colonel Ruffin was later stationed as an Air Liaison Officer with the US Army where he ensured joint integration between the Services and revolutionized Tactical Air Control Party training by spearheading a $2.5M simulator project. Later, he deployed to Bagram AB, Afghanistan as a MC-12 pilot flying over 100 intelligence, surveillance, and reconnaissance (ISR) combat missions, logging over 500 combat hours and served as the squadron chief of weapons and tactics where he was hand-chosen as the ISR mission commander for the second-largest special operations mission in OPERATION ENDURING FREEDOM history. Colonel Ruffin attended the prestigious School of Advanced Military Studies (SAMS) where he earned a Master's Degree in Military Operational Art and Science. He then served as an airpower strategist at the Headquarters, US Air Force at the Pentagon and later led the Outreach and Engagement Division of the Aircrew Crisis Task Force. Most recently, he was personally chosen to create and commander the Air Force Recruiting Service Detachment 1 with the mission to inform, influence, and inspire American youth to Aim High inside or outside of a military career.
Since age five, Colonel Ruffin had a vision for his life's career and was privileged to receive outstanding support and mentorship in obtaining his goals. An appreciation for his experiences has led to his passion for helping other youth achieve their goals and dreams. Starting in high school, throughout college and continuing now, Colonel Ruffin volunteers as a flight instructor at several CAP and other flight programs; he has also been a featured guest at countless graduations, open house events, and mentorship events. In 2012, Colonel Ruffin founded the 501(c)(3) non-profit organization Legacy Flight Academy (LFA) whose mission is to uphold and sustain the legacy of the heroic Tuskegee Airmen (for more info see www.LegacyFlightAcademy.org). As part of the ~2% of Air Force and commercial airline pilots who are African-American, he is dedicated to increasing minority awareness of the benefits and opportunities of military service.
Most importantly, Colonel Ruffin is married to the former Tané L. Peterson of Philadelphia, PA and they currently have six children: twin daughters Tabitha and Lydia (12), Joanna (8), Thaddaeus (6), Matthias (3), and Priscilla (1). They strive to be active in their local church and are a committed home-school family. With over 2,500 flight hours in civilian and military aircraft, several Federal Aviation Administration pilot licenses (to include Airline Transport Pilot and multiple flight instructor ratings), and 155 total combat missions, one of his most cherished flights was personally flying his family from Texas to Colorado and back.
Colonel Ruffin's military awards include the Meritorious Service Medal with one oak leaf cluster, National Defense Service Medal, Air Medal with six oak leaf clusters, Korean Service Medal, Afghanistan and Iraq Campaign Medal with Bronze Star, and Global War on Terrorism Service Medal with Gold Border, and Small Arms Expert Marksmanship Ribbon (Pistol). His other awards and recognitions include the 2008 IMSA Alumni Distinguished Leadership Award, 2013 TAI Distinguished Service Award, and 2016 Black Entertainment Television (BET) Shine-a-Light recipient.
On October 18, 2021, the President's Commission on White House Fellows announced the appointment of the 2021-2022 class of White House Fellows, the most diverse class in the history of the program. Colonel Ruffin was placed at the Office of the National Cyber Director. The prestigious White House Fellowship program embeds professionals from diverse backgrounds for a year of working as a full-time, paid fellow for White House staff, Cabinet Secretaries, and other senior government officials.