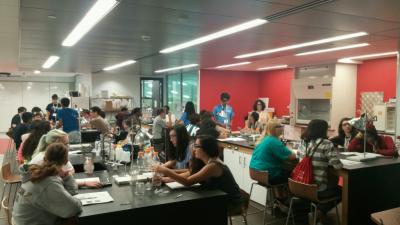 Salt and pepper…..peanut butter and jelly….science and math—without math, science just wouldn't be the same! Math can reveal and relate what scientists discover by helping them find relationships between an experiment's hypothesis and the data that is collected. In this program students will learn about evolutionary biology and how to use mathematical modeling to predict how populations will change over time. Students will be learning about how intra- and inter-species interactions can help or hinder population dynamics and will use the program Vensim to mathematically model these dynamics.
This program is for students entering grades 8-9 in fall, 2018. Students must turn 13 by September 1, 2018, to be eligible for this program.
Date: July 8-13, 2018*
Location: Illinois Mathematics and Science Academy, 1500 Sullivan Road, Aurora, IL
Cost: $938
*These programs begin with check-in Sunday evening and conclude with student departure on Friday afternoon following a 2 pm presentation for parents. Students will live in the IMSA residence halls, eat meals in our cafeteria, and enjoy free time and organized activities in the evening.
This program is currently full, but we are still taking names for the waitlist. Continue to registration using the link below to sign up for the waitlist.
Registration deadline: May 31, 2018 Scholarship application deadline: April 1, 2018
Need-based scholarships* are available! Online scholarship applications open February 13, 2018. This year scholarships for Residential Programs will be offered on a rolling basis, so it is to your benefit to complete your scholarship application as early as possible. Residential scholarships will range from partial to full scholarships, depending on a family's financial situation. During the scholarship application process you will be asked to submit proof of family income. Scholarship recipients will be responsible for a $30 administrative fee no matter what amount of aid they receive.
*Applying for a scholarship does not guarantee an award or registration into the summer program. To qualify and apply for a scholarship, the student is required to submit proof of eligibility: 2016 or 2017 federal or state tax return showing your adjusted gross income and number of dependents. WATCH YOUR EMAIL and CHECK YOUR SPAM FOLDER! Award recipients will be notified via email and must reply to scholarship offer within time period indicated in email. NOTE: You may choose to either pay for program registration OR apply for a scholarship and await award notification. Scholarship applications will not be accepted along with a paid registration.
Refund Policy
Please choose your programs carefully. For residential programs, full refunds (less a $30 processing fee) will be given for requests received by March 31, 2018. After this date through April 30, 2018, a partial refund (50%) will be provided for residential programs. No refund requests for residential programs received after April 30, 2018 will be honored. For day programs, full refunds (less a $30 processing fee) will be provided for requests received through April 30. After this date through May 31, 2018, a partial refund (50%) will be provided. No refund requests for day programs received after May 31 will be honored. ALL requests for refunds must be made in writing. You can direct requests by email to studentenrichment@imsa.edu. Please include the program name and date, your child's name, and your name. Phone call requests for refunds will not be accepted.