October 3, 2018 – It is with heartfelt sorrow that Illinois Mathematics and Science Academy announces the death of its founder, Dr. Leon Lederman, on Wednesday, October 3 at the age of 96.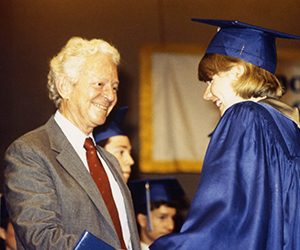 As a physicist, researcher, university professor, national laboratory director, and Nobel Laureate, Dr. Leon Lederman influenced the role of science and science education, but will be remembered most by the IMSA Community for his love of science and students.
"I absolutely loved the way he worked with students," says 26-year science faculty member Dr. Don Dosch. "He introduced students to the academic community by bringing in his fellow Nobel Laureates so they could learn from, interact with and be inspired by the greatest minds of our time," says Dosch.
IMSA Principal and long-time administrator, Dr. Robert Hernandez adds, "Dr. Lederman was a shining light that changed the world and the way we taught science. He had such a passion for science and for students," says Hernandez.
At Fermi National Accelerator Laboratory, Dr. Lederman became a leader in launching programs to encourage young people to pursue their scientific interests. His deep concern for the quality of science and mathematics education in Illinois, and his intense commitment to motivate students to pursue careers in science, led him to propose the concept of Illinois Mathematics and Science Academy–a place that would inspire and challenge students of exceptional talent.
"Leon left life-changing legacies, and IMSA was a huge one for many," remarks IMSA charter class member and current Board of Trustees Chair, Erin Roche.
IMSA President, Dr. José Torres says, "Because of Dr. Lederman's example, IMSA stands as a beacon of possibilities for the development of scientists and problem solvers."
For more information on the life and work of Lederman, visit digitalcommons.imsa.edu/lederman/