As soon as she learned to read, Madison Hahamy began to write.  Short stories, poetry, and a brief foray into novels.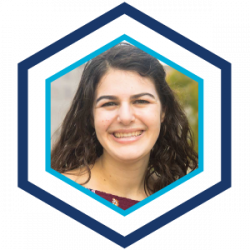 But, it wasn't until she joined her high school newspaper as an opinion writer that Hahamy discovered a passion for reporting.  Now, she is making headlines as the subject of media attention at the center of a national debate.
In 2016, Hahamy enrolled at IMSA and began writing for the student-run Acronym newspaper, which quickly became her favorite extracurricular activity.  Her fascination with the power of words grew and she began writing and editing for several other newspapers and magazines, including jGirls, a community and magazine written by and for teenage Jewish girls.
Recently, Hahamy set her sights even higher as one of many teen reporters writing "Since Parkland," a project that honors each of the 1200 American children who died in shootings within the same year as the Parkland High School massacre in Parkland, Florida.
Hahamy, who also serves as Senior Project Reporter for "Since Parkland," wrote remembrances of more than 35 victims helping to create an unprecedented record of how gun violence impacts America's children.
At times, the work was "gut-wrenching" says Hahamy. "My editor would ask if I needed a break," she says.
"I always replied no and asked for more, and it wasn't me trying to be brave or push through my emotions: the harder it was to write, the more I realized that the writing was necessary," she says.
Hahamy wasn't alone in her resolve. She was in good company with other peer reporters.  "The amount of power, intelligence, passion, resilience, eloquence, and fierceness that the student reporters brought to this project is unquantifiable," Hahamy says.
"If the future is filled with people like them, it is not nearly as bleak as the news would like us to believe," she says.
At the same time, Hahamy is angry.  "There is an epidemic that we didn't even know was occurring," she says. "I wrote about Tarique Morris, a three-month-old baby who was killed."
"How do we not hear about a three-month-old baby," she questions.
Amidst her frustration, she insists that anger is not equivalent to helplessness. "I don't feel helpless anymore," comments Hahamy.
Rather, she is hopeful.  Before the project was released, her biggest dream was that the project would be covered by The New York Times.  With attention from The Times as well as nationally televised interviews with ABC, CBS and CNN, Hahamy is expectant.
"In a world such as ours that is hit by a crushing barrage of headline-worthy news every hour, we managed to not only stay afloat, but to dominate," she says.
"We can create change. We already did."
Each profile took her and average of three hours to write. "Since the goal of the stories was to emphasize their lives, it was imperative that I had more information about the person than the bare minimum, even if that information was as mundane as a favorite color or a picture of them posing with a peace sign," she explains.
"They were people, and we wanted to portray them as such," says Hahamy.
Not all of the children Hahamy wrote about had names.  "In all but one of my profiles, we were able to find the names of the individuals, even if that meant revisiting news articles months after I initially wrote the story," she recalls.
As for the one unnamed child, Hahamy is determined to keep searching. "Even though it seems to us like she disappeared without a trace, that isn't true. Someone loves her, someone misses her, and I wish that the rest of the world could see that, as well," she says.
In the meantime, the high school senior from Glencoe, Illinois will keep honing her writing skills as co-Editor in Chief of The Acronym.  She graduates from IMSA in June and intends to make her career at the intersection of diplomacy, law, and journalism departing IMSA with much appreciation.
"Unlike most people, I didn't come to IMSA for academic reasons," she says.  "Instead, I came for everything else."
"I didn't want to wait until 10 years from now to be someone – I wanted to start now," says Hahamy.
"IMSA gave me the freedom to participate in a multitude of extracurriculars, do research, and also have time to take interesting and specialized classes," according to Hahamy.
IMSA President Dr. José Torres says learning experiences beyond the classroom is the hallmark of an IMSA education.  "IMSA develops and connects our students' passions with real-world challenges equipping them with the knowledge, tools and motivation to be change makers and problem solvers just like Madison," says Torres.
"I think that people have this misconception when they see the name "Math and Science Academy" that everyone here at IMSA is STEM and STEM only," she adds.
"I think that STEM education is necessary, and it has taught me to think about the world differently and to see beauty in numbers and to make connections that I wouldn't otherwise make, but I credit IMSA with allowing me to have a high school experience that was the "everything else."
For more information about the "Since Parkland" project, visit sinceparkland.org.  For more information about IMSA, visit imsa.edu.