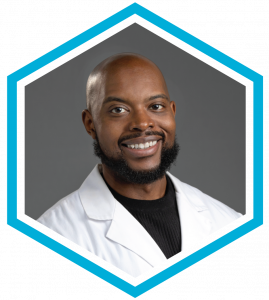 Dr. Lambert '03 provides compassionate and preventative care to peoplefrom all communities and walks of life as medical director of the RushUniversity Family Physicians group. Aside from his busy clinical practice, Dr. Lambert remains very involved in the Rush community in several capacities, including as a clinical teacher and facilitator, director of the Rush Family Medicine Leadership Program, director of the service-learning curriculum, and an active member of the Admissions Executive Committee. He is a member of the American Association of Family Physicians, a diplomat of the American Board of Family Medicine, a member of the Christian Community Health Fellowship, an academic advisor for the National Medical Fellowship Minority Primary Care Leadership Program, and the Chicago Area Albert Schweitzer Fellowship Program.
Initially, Dr. Lambert worked at Family Christian Health Center in Harvey, Illinois focusing on primary care in underserved communities. He continues to be involved with academic medicine as well as mentorship, recruitment, and retention of minority students into medicine.
Dr. Lambert was named to the National Medical Association Top Healthcare Professionals Under 40 List. Additionally, he has been the recipient of several awards in his career, including the 2011 David Jones Peck, MD Award, induction into the Arnold P. Gold Medical Humanism Honor Society, the 2010 American Medical Association Minority Scholar Award, the 2011 National Medical Fellowship Resident Scholar Award, the 2017 recipient of the Outstanding Educator Award from the Office of Congressman Danny Davis, the 2017 recipient of the Leonidas J. Berry, MD Award for Diversity and Inclusion, the 2017/2018 Family Medicine Preceptor of the Year Award, and the 2017/2018 recipient of the Rush Medical College Positive Learning
Environment Award.