Global Conversations with STEM Students is an opportunity to connect students across boundaries, share cultures, gain international perspectives, and build awareness of realities of students' day-to-day life experience.
Conversations are student-led and student centered. The 1-hour virtual session will involve small group discussions (10-15) between IMSA students and other participating STEM students.
Sponsored by the Illinois Mathematics and Science Academy
---
Global Conversations Continue to Deepen International Relationships
Instead of hunkering down at home, students in world leading STEM high schools worked virtually, across borders, to collaborate and build relationships. IMSA is pleased to share the results of the first series of Global Conversations in collaboration with students from Italy, Mexico and Japan.
April 2020
The inaugural Global Conversations series occurred in 2020.
In April 2020, a group of IMSA juniors had the opportunity to Zoom call with their 11th grade student counterparts in Milan. They discussed the effects of COVID-19 in their respective countries and how each of their schools are transitioning to distance learning. They also shared what they have learned in the midst of quarantining. Both groups gained international perspective. The students are looking forward to staying connected and continuing conversations next year.
On December 16, 2020, International Baccalaureate (IB) students from Collegio San Carlo in Milan, Italy met with students from IMSA. The Social Inequalities group developed a project focusing on immigration and issues such as Black Lives Matter as they apply to Italy as a part of a Creativity, Activity and Service (CAS) initiative. The group of students from IMSA engaged in a conversation with the Collegio San Carlo students to share their views of racial injustice including the Black Lives Matters movement in the United States. The Italian students shared what they have seen in the news headlines as well as inequalities that exist in Italy.
As a follow up, senior Samantha Taylor was interviewed for a podcast that was also a part of the IB project. The podcast was recorded on March 3, 2021.
April 9, 2021
50 students from two leading STEM Schools, Prepa Tec (Mexico) and the Illinois Mathematics and Science Academy (Aurora, IL), hosted a series of Global Conversations. This was a collaborative effort led by Dr. Mary Zuidema, IMSA Faculty, and Clara Luz Marcelín, PrepaTec Faculty. The April 9th session was a cross-cultural exchange, focused on building relationships between student groups. One motivating, engaging activity, was exchanging "Idioms" used in the students' respective countries. The next Global Conversation with PrepaTec and IMSA will focus on UN Sustainable Development Goals.
IMSA is ecstatic about the student-to-student global relationships being developed through collaborative learning. IMSA looks forward to continuing and extending this unique student learning experience with other STEM schools in the Fall.
IMSA Global Conversations provide unique experiences that build Global Competence through international connections between students and partner schools. The conversations are guided by students, and framed in the context of STEM and broadly, the United Nations Sustainable Development Goals.
April 16, 2021
Students watched the documentary Hecho en Los Angeles / Made in LA, which talked about labor rights in the garment industry. They dove into "designing" a product or innovative piece of technology to be used in the fashion industry to help with one of the UN's Sustainable Development Goals (fast fashion, climate change, etc).
April 23, 2021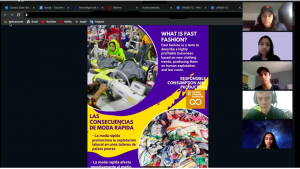 Students worked collaboratively to create and record a "presentation" to teachers, Clara Marcelin (PrepaTec) and Mary Zuidema (IMSA) as if they were pitching their product on Shark Tank. Student collaboration has involved coordination of tasks to accommodate school responsibilities.
Looking forward to future collaboration
PrepaTec's Clara and IMSA's Mary Zuidema had a blast with this collaboration, and the IMSA students look forward to working with them next year. Teacher, Clara and Mary, plan to get together sometime over the summer to find ways to incorporate more science in future lessons!
May 11, 2021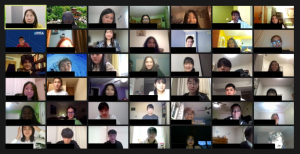 29 students from the Illinois Mathematics and Science Academy met with 41 students from Ritsumeikan High School (Japan) for a virtual collaborative conversation to establish a collaborative relationship between the two leading STEM High Schools.
The event was facilitated by Dr. Sowmya Anjur, of IMSA, and Ms. Takeda of Ritsumeikan High School. The experience was part of IMSA's commitment to foster unique global perspectives and multi-cultural experiences for STEM students. We look forward to continuing the partnership between Ritsumeikan and IMSA in the next academic year.
Ritsumeikan students prepared slides emblematic of Japanese culture and language to share. IMSA students prepared "icebreaker" activities to build relationships and share their culture with new friends and collaborators from Japan.
Participants represent a cross-section of IMSA students, ranging from science courses, the Student Inquiry Research (SIR) program, and IMSA's "Titan Crew" members. Participants were a good mix of sophomores, juniors and seniors of diverse backgrounds.
The faculty hosts report that this was a great success and look forward to repeating similar experiences between the two schools. Future plans include collaborations between students from IMSA and Ritsumeikan to support science project work.
With summer coming up, the next interaction between these two STEM schools will resume early in the Fall.
Plans for the next academic year include further sessions between IMSA and PrepaTec that focus on building global competence among students and staff as the two schools developing school-to-school relationships.