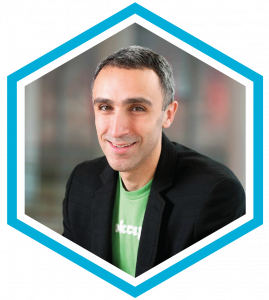 "Growing up in a small town in Illinois, I went through school winning almost every award and rarely meeting any challenges in the classroom. Everything changed on the first day of IMSA when I saw a new world of opportunity and realized I had lived a sheltered academic life. Letting go of the label of "smartest kid in the class" allowed me to forge a new, fuller identity that ultimately allowed me to grow as a person. Learning to overcome challenges, widening my aperture beyond academics, and developing a network of like-minded friends put me on a trajectory to evolve as a leader and human and achieve success in my career and happiness in my life."
Sam Yagan serves as Co-Founder and CEO of Corazon Capital, an early stage venture capital firm. He recently served as the Chief Executive Officer of ShopRunner, Inc., which provides its millions of members with free two-day shipping and seamless checkout at over 100 leading online retailers; in 2020, he led the sale of ShopRunner to FedEx Corp. (NYSE: FDX). Prior to ShopRunner, Sam served as Vice-Chairman of Match Group (Nasdaq: MTCH), a position he assumed after leading the company as Chief Executive Officer through a period of explosive growth that culminated in its IPO in 2015.
In addition to its two early-stage funds, Corazon Capital also manages a fund-of-funds and two crypto-focused special-purpose vehicles. Several of Corazon's portfolio companies have achieved meaningful success, including Pretty Litter, LitCharts, Brilliant Worldwide, Pinterest, Knock, and Telnyx.
Sam's prior entrepreneurial ventures in the consumer internet sector include SparkNotes (founded in 1999), still the dominant brand of study guides and eDonkey (founded in 2002), once the largest peer-to-peer file- sharing network in the world. He sold SparkNotes to iTurf, Inc. and then to Barnes & Noble, Inc., where he served as Vice-President and Publisher and oversaw the expansion of the digitally-native brand into an expansive multi-platform media business. He also co-founded OkCupid, which he led as its CEO through its sales to Match Group in 2011.
Outside of work, Sam devotes himself to mentoring technology entrepreneurs and civic leaders. In 2009, he co-founded Excelerate Labs (now TechStars Chicago), a leading start-up accelerator, and served as its first Chief Executive Officer. Sam sits on the board of several private companies, including Chamberlain Group, SpotHero, Brilliant Worldwide, and Grindr. He also advises several venture capital funds, including Hyde Park Venture Partners and the FireStarter Fund, which he co- founded. He serves on the Illinois Mathematics & Science Academy Fund Board, and previously served on Target Corp's Digital Advisory Council, the Stanford Graduate School of Business Management Board, and as an advisor to Procter & Gamble. He also sits on the boards of non-profits Start Early, Leaders in Tech, and the Rush University Medical Center.
Sam has earned recognition on TIME Magazine's "100 Most Influential People in the World," Fortune Magazine 's "40 Under 40," Crain's Chicago "Tech 50″ and "40 Under 40", Billboard Magazine's "30 Under 30," D Magazine 's "Dallas 500" and ranked #19 on Silicon Alley Insider 's "Most Inspiring and Influential People." He has received the Chicago Innovation Awards' "Visionary of the Year Award," IMSA's "Distinguished Leadership Award," the DCIA's "Pioneer's Award," and admission to Chicago Innovation's Hall of Fame. Sam has testified before the United States Senate Judiciary Committee and has spoken at the CATO Institute, Digital Hollywood, IRCE, the Federal Trade Commission, and numerous other industry events.
Sam has a BA with honors in Applied Mathematics and Economics from Harvard College and an MBA from the Stanford Graduate School of Business, where he earned distinction as a Siebel Scholar, an Arjay Miller Scholar, and the Henry Ford Scholar, the award granted to each class's valedictorian. Sam lives in Chicago with his wife, Jessica, and three kids, Maggie, Jack, and Max.